The Studio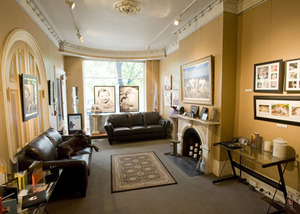 Infinity Portrait Design
is a boutique portrait studio located in one of the beautiful brownstones on Boston's historic Beacon Hill since 2005 offering a full line of newborn, family and business fine art portraiture. As photographic print artists, we believe in the true artistry of fine art portraits by offering a refined, modern twist based on the classics. We specialize in portraiture that celebrate the unique beauty in each and every client and love telling each family's story by capturing your spontaneous moments shared together by designing the photo session that meets your family's unique style.
Offering sessions in our Boston studio, in the picturesque Public Garden or at your special location throughout New England. If you are looking for creative, timeless and simply beautiful portraits that will capture a special time in your life, please stop by our studio or
contact us
to start planning your custom session.
Our Signature Sessions:
Newborn Portraits:
Little else is more special than capturing your baby's first precious days. Photographing your baby's details like their tiny fingers, toes & nose, soft,pink skin and their round little rolls in fine art portraits will be treasured for many years to come. These images are the cornerstones that you will build upon as you document your child's life journey. Perfect for gift giving, birth announcements and for wall art to hang on your walls in the nursery or throughout your home. Newborn sessions are done within baby's first 2-3 weeks of life so
contact us
now or even before your baby's birth to get the ball rolling. It will be one less thing to check off of your list! And
ANNOUNCING
our new
Baby Plan!
Ask us about it.
Family Portraits:
Families' grow and change so quickly especially children from year to year which is why it is so very important to capture it. Fine art portraits are perfect to hang as a wall collection to document this growth.
Contact us
to book this year's family portrait and to start your very own timeline. It's never too late. Perfect for gift giving and for your holiday cards too.
Business Portraits:
What does your business portrait say about you?
It's important to control the conversation and we are
experts
at starting it! Whether it be a
progressive location lifestyle shot
or a
classic old masters studio
one, a great business portrait or
"selling shot"
as we like to call it is
crucial for success
in this day of online profiles and social media.
Contact us
now for a complimentary design consultation and to
book your session
. And for some
on demand GLAM
to take your session to the next level, we can schedule a hair/makeup professional or a personal style consultant to put on the finishing touches. Ask us about it.
Our work includes:
Black & White Relationship Portraits
Pet Portraits

We truly believe in photographing your moments that matter. You pick the time and the session style. We will capture your special moments.


2018 Sessions Are Available During the Below Listed Times:
Newborn & Family Sessions: Wednesdays 10am-6pm; Thursdays 9am-3pm; Fridays 10am-2pm & Saturdays 10am-6pm
Business Portraits: Monday-Friday 9am - 4pm
In Office Hours:
By Appointment Only
Closed on Sundays & Mondays
Please contact Annie at
617-367-9432
or email:
Annie@InfinityPortraitDesign.com
to schedule your session!